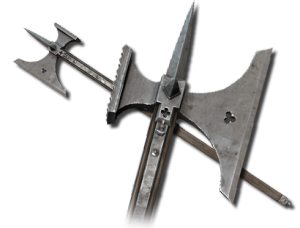 No higher resolution available.
A pollaxe is a deadly combination of an axe, spear, and war hammer; and it became increasingly popular in the late middle ages, particularly in trial by combat and duels. Pollaxe's were very similar to the halberd, however a halberd typically had a hook to rip horsemen off of their horses or to reach around and cut out a man's legs; whereas a pollaxe has a warhammer, which was used to smash through ones armour, breaking ribs and bursting organs.
File history
Click on a date/time to view the file as it appeared at that time.
Ad blocker interference detected!
Wikia is a free-to-use site that makes money from advertising. We have a modified experience for viewers using ad blockers

Wikia is not accessible if you've made further modifications. Remove the custom ad blocker rule(s) and the page will load as expected.